Introduction:-
Mobile transactions always give users the next level of perfection. E-Wallet mobile app users are getting more and more reliant on smart devices. Leading the race of smart devices, smartphones have made an impeccable space in the lives of people. Not only the music and entertainment segment, but people are vigorously using the technology to buy and sell everything ranging from groceries to booking tickets for their weekend getaway.
What is an E-Wallet Mobile App? 
An E-Wallet Mobile App is a financial instrument that allows businesses and individuals to receive and send money via mobile devices. It is a type of e-commerce model that is developed with mobile devices owing to their convenience and ease of access. An E-Wallet mobile app which is known as mobile money transfer means sending money via mobile.
The evolution of eCommerce has been commendable, which has carved a way for the eWallet mobile applications as well. These two go hand-in-hand. This is the right time to invest your money in developing an E-Wallet mobile application for your company if you have been thinking about it.
Why Develop an E-Wallet Mobile App – Here Are Some Market Stats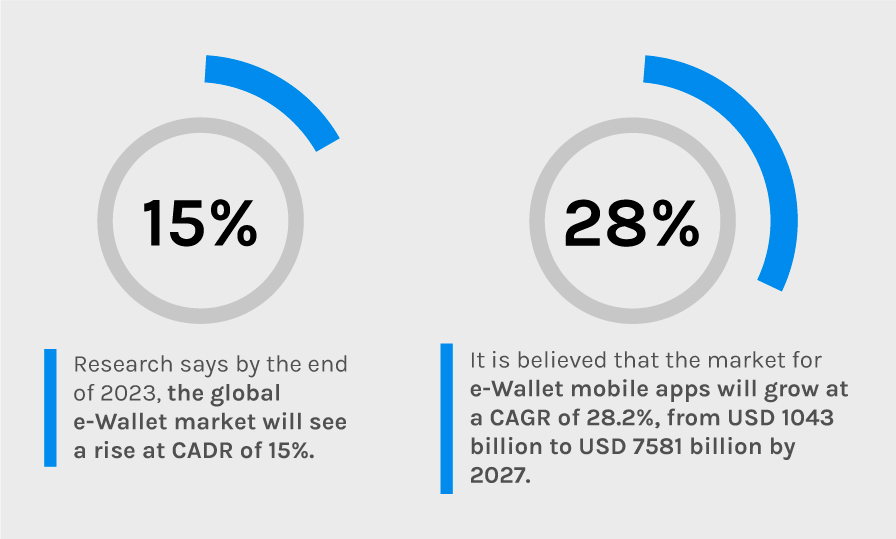 Types of E-Wallet Mobile App:- 
Closed E-Wallets:- 
Did you notice that for Walmart pay, they can only do the payment made through the mobile wallet for the purchase of products on that app? These companies have been functioning for a long time, later the E-Wallet payment system becomes a part of them. Not every application can use these E-Wallets to make payments only selected apps are allowed to do so.
Semi-Closed E-Wallets:-  
In the case of semi-closed E-Wallets, the users are at the benefit of using these wallets to make payments at the stores that have signed a deal with the E-Wallet company. These might be available only on certain outlets and not all of them. Therefore, they are called half-closed or semi-closed E-Wallets. 
Open E-Wallets:- 
These are the most commonly used E-Wallet types as they can be easily installed in either Android or iOS phones or maybe both. If it is compatible with all networks. These are quite easy to use and make the final number of transactions. Users who have been mostly using apps like Google pay and Paytm come under this category.
Industries That Reap Benefits of E-Wallet Mobile App:- 
On-Demand Food and Grocery Apps:- 
We all are aware of the booming on-demand industry right now. The global pandemic has made people more cautious about purchasing food and groceries. Gradually people are shifting towards purchasing food and groceries online. With social distancing and self-isolation becoming the new norm, the on-demand industry has seen huge growth. And to make payment more convenient for the users, these apps have been integrated with several online payments, the most used being the E-Wallets. 
Online Bill Pay:- 
Gone are those days when you had to go to an electricity board office and pay your monthly electricity bill. Now one can easily do it by just doing a few clicks on the smartphone. This facility has not only made payments much easier but has also helped users make timely payments. Almost all e-Wallets allow their users to pay all their due bills through the mobile app. The user can pay bills like the phone bill, water bills, gas bills, and many other kinds of bills.
ECommerce Industry:- 
Mostly every person owns a smartphone and they are all looking fōr products either for home use, or luxury on eCommerce apps. With E-Wallet mobile apps ruling the tech market, they have reduced the bridge between sellers and buyers, the number of E-Wallets has increased, and have given way to several small companies and start-ups to do well in the industry. 
The boost has been enormous and we can only think of it to be doing well because of the trend seen in the user's behavior of purchasing more products online. This also eradicates the need for cash on delivery as users mostly like to make prepaid payments. 
Ticketing and Booking:- 
Another one of the most important industries that have left no stone unturned in making an E-Wallet a success in the ticketing and booking industry. Now users can make maximum use of these wallets to book their plane or train tickets or even bus tickets. One can also book tickets to watch movies and can also confirm the booking of many things. One can also book and confirm the payment for a taxi using E-Wallet mobile apps. 
List Of Online Payment Methods Primarily Includes:- 
QR Codes:- 
A QR code is a 2-D square-shaped barcode that has encoded data stored in it. They use QR codes for branding and advertising purposes. However, its other applications include email list segmentation, social sharing, print media tracking, and connecting chains.
iBeacons and Bluetooth Payment:-
As we all know iBeacon is Apple's version of the Bluetooth-based beacon concept. Moreover, This technology simply allows the user to broadcast and receive minute pieces of information within a limited range. 
It is also used to improve the shopping experience, tracking purposes, automation, and also for classroom programs. 
Online Payments:-
This is one of the most common methods of payment in which the user makes the payment through debit or credit card or even via net banking. This method involves digital payments to the merchants with the help of a payment gateway.
Mobile Payments and Wearables:- 
The growing number of wearables are adding features like contactless payments with wearables apps. There are several payment gateways available to integrate into a mobile wallet to help a user load and send money to and from his/her wallet with the help of a credit or debit card.  
Peer-To-Peer Money Transfer:- 
Here P2P payment apps come to action. They help in completing the digital transaction with efficient features like contactless payments and with more security. It can receive this type of payment through PC and mobile devices via the internet. It provides an alternative to traditional payment methods.
Point of Sales Payments (PoS):- 
POS system or point of sale system is used to describe a system that includes various components such as hardware, software, analytics, employee management, inventory management, and reporting.
The PoS system comprises a computer that operates on PoS software, barcode scanner, credit card reader, receipt printer, and on-site server.
NFC Tags:-
NFC tags are passive devices, which means they don't need any power supply to function. Moreover, it's only activated when it comes in contact with an active device. 
The best part about using these tags is they can't do any processing on their own, rather they are just used to transfer data to an active device. Let's have a brief idea about the functions of NFC tags. 
Scan & Read:- 
NFC tags can transfer data. The user just needs to put the NFC card or tag on the backside of the device and boom!!!! The device connected with the tag will collect all the information.
Write & Edit:- 
Apart from scanning and reading, rewriting and editing the information collected using NFC tags is also possible. To rewrite and edit the information, the user just has to scan the tag by placing it on the backside of the device. Then the device will automatically collect all the information for editing and rewriting.
Scan & Pay:- 
The user can also do payments using NFC. Put the credit or debit card on the backside of your device. As soon as the user puts it on the NFC tag it will automatically fetch all the details of the card and then will complete the transaction. 
CodeStore Technologies has substantial experience in developing android and iOS apps that are based on the concept of NFC. 
As we have gained ideas about E-Wallet apps, their types, the industries they serve, and also the list of online payment methods it primarily includes. Now it's time to know the features and key factors to keep in mind while developing an efficient E-Wallet Mobile Application.
Main Features of Our E-Wallet Application:-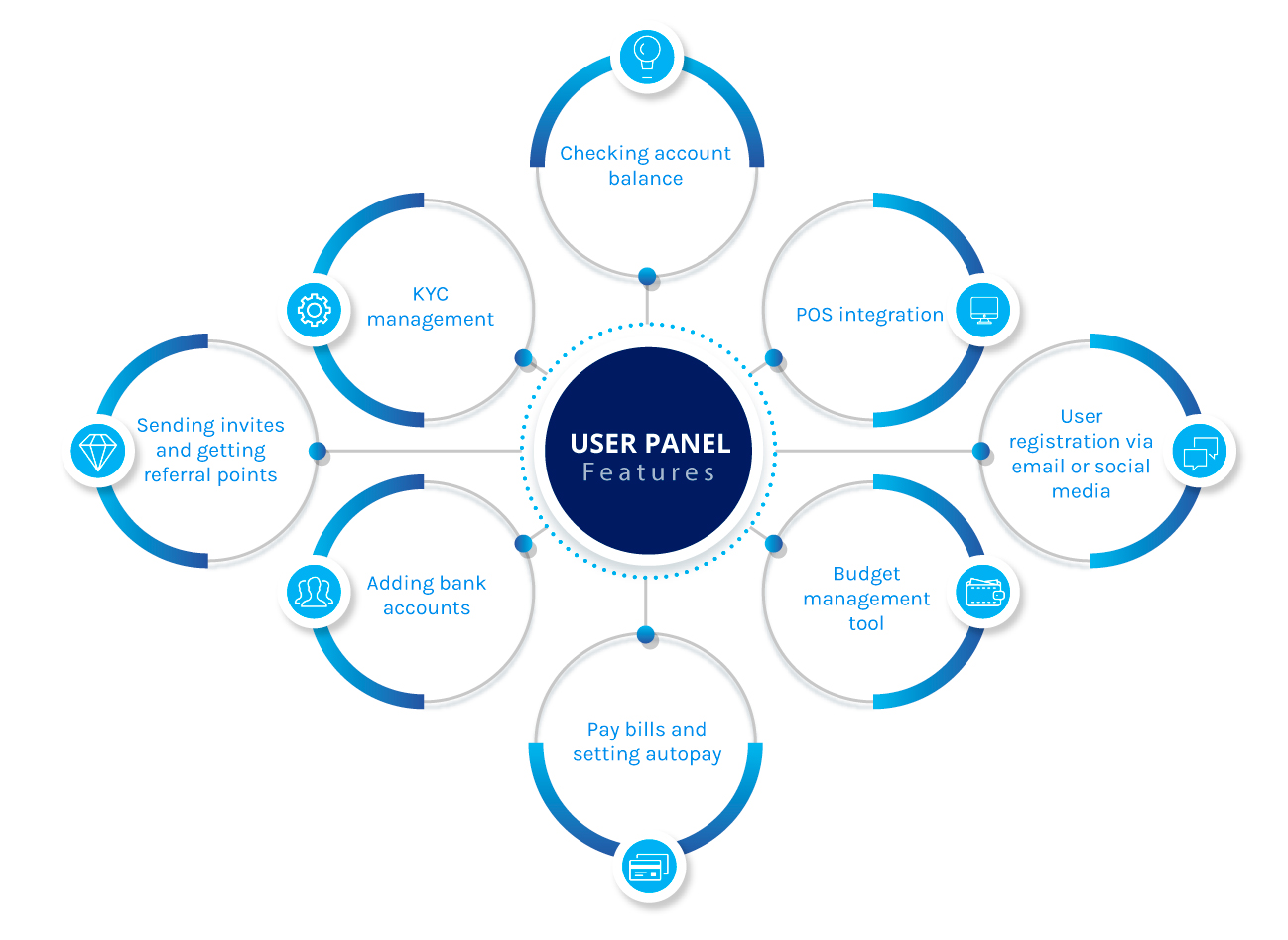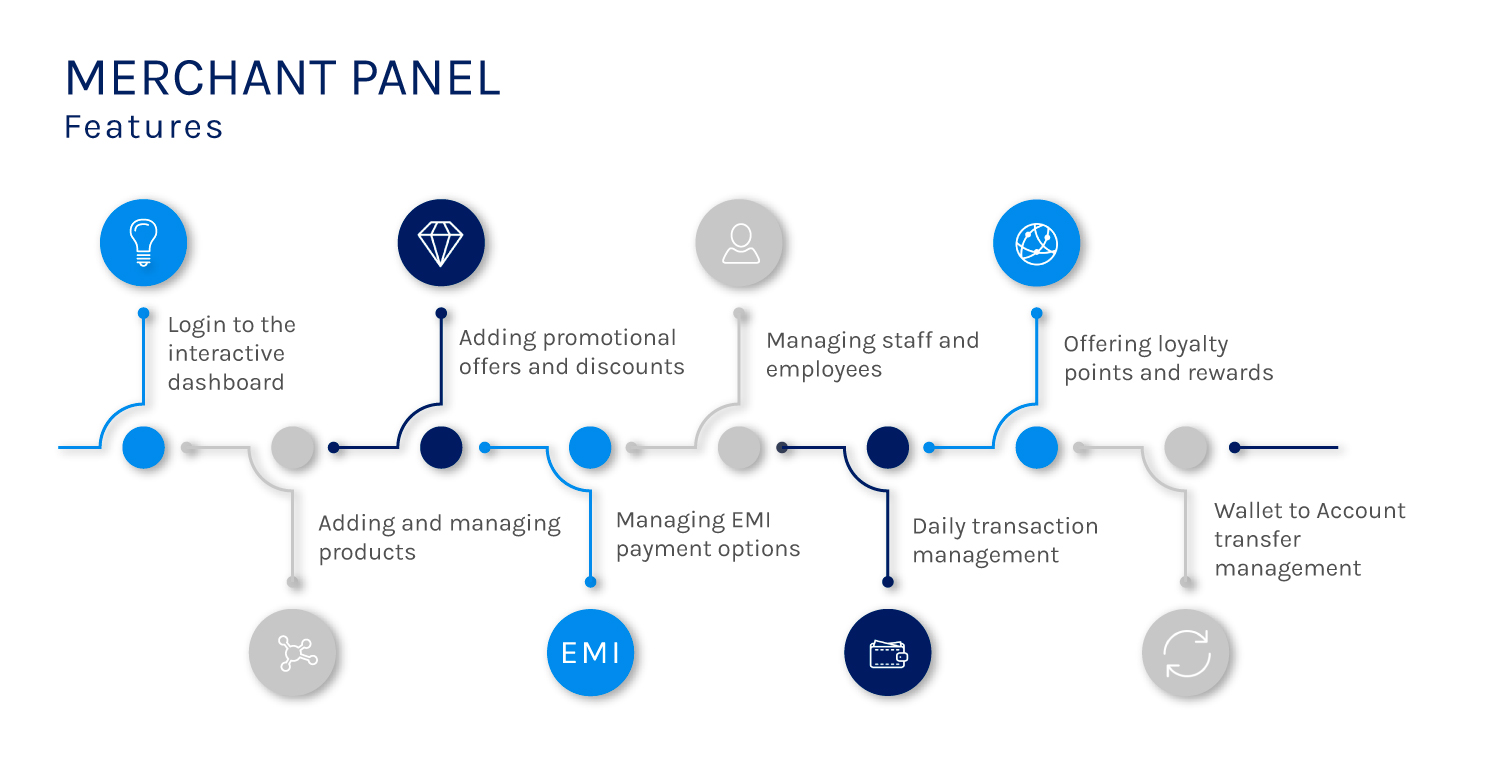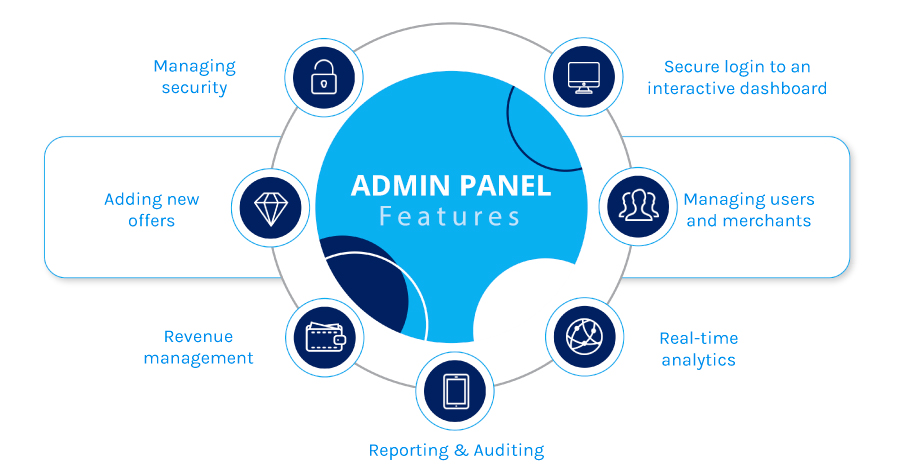 Some Advanced Features Which CodeStore Technologies Includes In E-Wallet Mobile App:-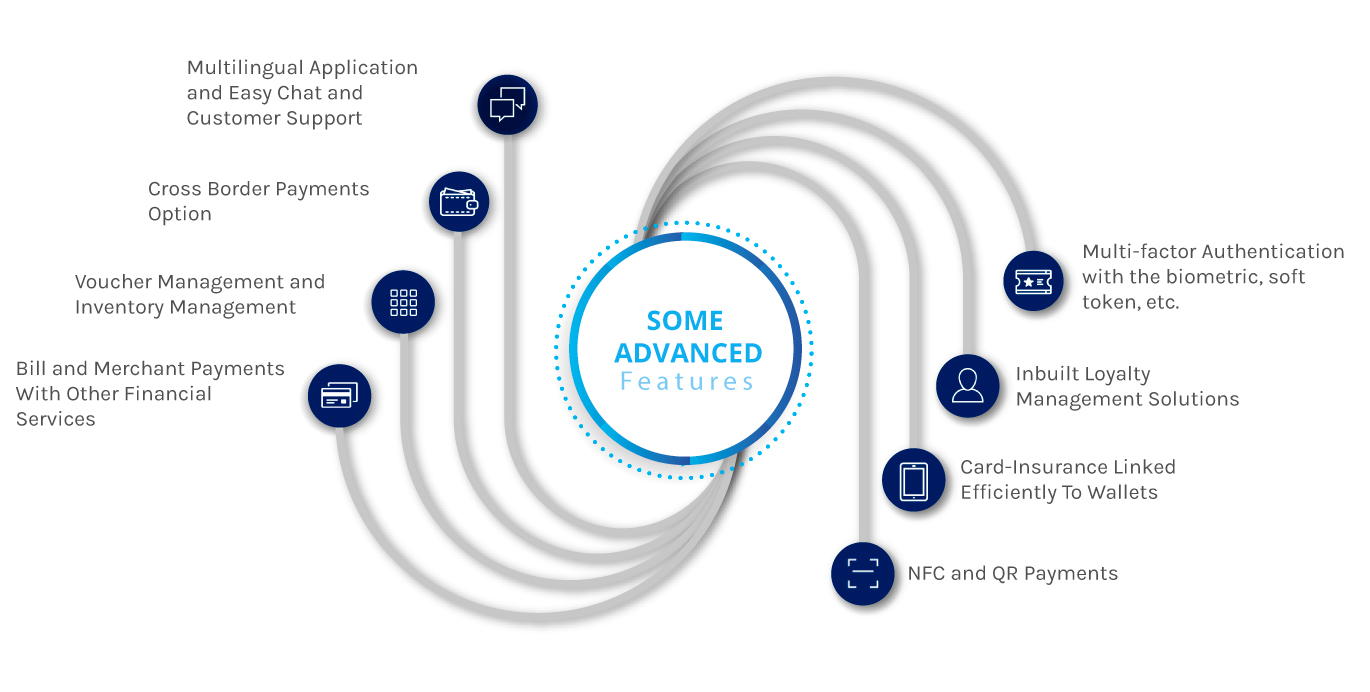 Key Factors We Keep In Mind While Developing E-Wallet Mobile App:- 
Here are some key features that developers at CodeStore Technologies keep in mind when developing an E-Wallet Mobile Application.
Security:- 
Your E-Wallet Mobile Application can only be successful if and only if the customers can rely on its security structure. The E-Wallet requires customers to store their card information or either their passwords. 
Our developers make security their primary responsibility while developing the E-Wallet app. We ensure data security by using the most advanced technology. We also include technologies that are hard to decrypt. 
Function Prioritizing:-
An E-Wallet mobile app is a collection of different functions and features. Our developers carefully integrate these functions and features, as they will be eventually making your digital payment app a grand success.
Including Digital Receipt:-
After every transaction made by users, they need to have a confirmation about the success or failure of their payment. This is where digital receipt comes into action. Irrespective of the amount transferred they must get a receipt, Our developers keep this thing in mind and include a digital receipt option in the E-Wallet Mobile App. 
Moreover, Customers can easily receive these digital receipts on their registered email id. 
Sending Push Notifications:-
Sharing timely push notifications to your users regarding all exciting and latest offers helps in customer engagement. You can share customized coupons and deals with them to keep them engaged in your app.
We often see that users ignore an application after the first use, With the help of push notifications and sharing exciting deals and offer to them ensures retaining your customers.
Tech Stack Used By CodeStore Technologies:-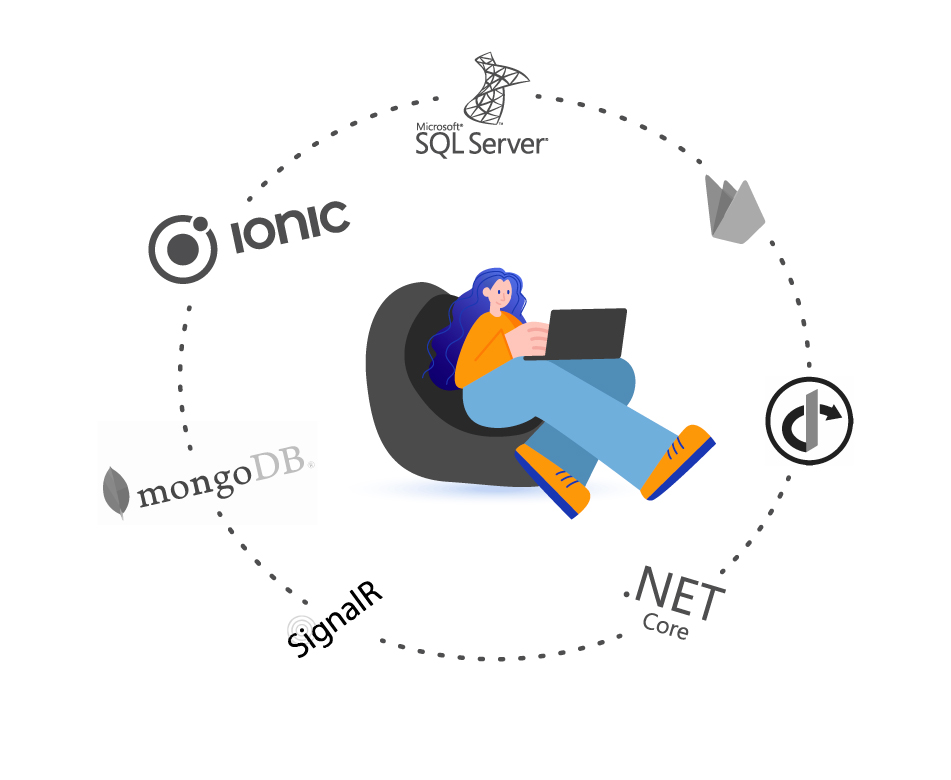 Why Choose CodeStore Technologies For Developing Your E-Wallet Mobile App? 
E-Wallet Mobile Applications are no longer just a trend; they have gradually become a need of the users. However, to relish the advantages of this fast-moving market, you just need to ensure flawless implementation of general facts and features. 
CodeStore Technologies is a leading mobile and web application development company in the USA and India. We help many small-scale companies and individuals in developing the best and the most efficient E-Wallet Mobile Apps.
If you are planning to develop an E-Wallet Mobile Application and still thinking about turning your dream into reality? Then hurry up and get in touch with us!!!! Moreover, Our efficient app developers will help you in turning your dream into reality.
Share your requirements at [email protected].