When we plan to develop a mobile app, the first question we ask an app development company is, "How much does it cost to develop an app?". The answer to this question will inform you about the amount of budget you need to get started with app development.
Often, these situations occur because people do not plan and do not know what steps to take.
It is very important to have a project plan to improve the application, as it helps to control the emergence and thus reduce costs.
In general, the average cost of application development varies greatly, depending on the number of features installed, the type of application, or the target mobile platform.
However, the important thing to remember is not to compromise the quality of the project. Reducing the design or product quality does not mean reducing costs, but technically destroying the project.
How to Reduce Cost of Mobile App Development
Let's take a look at some helpful tips and tricks on how to reduce the cost of developing an app!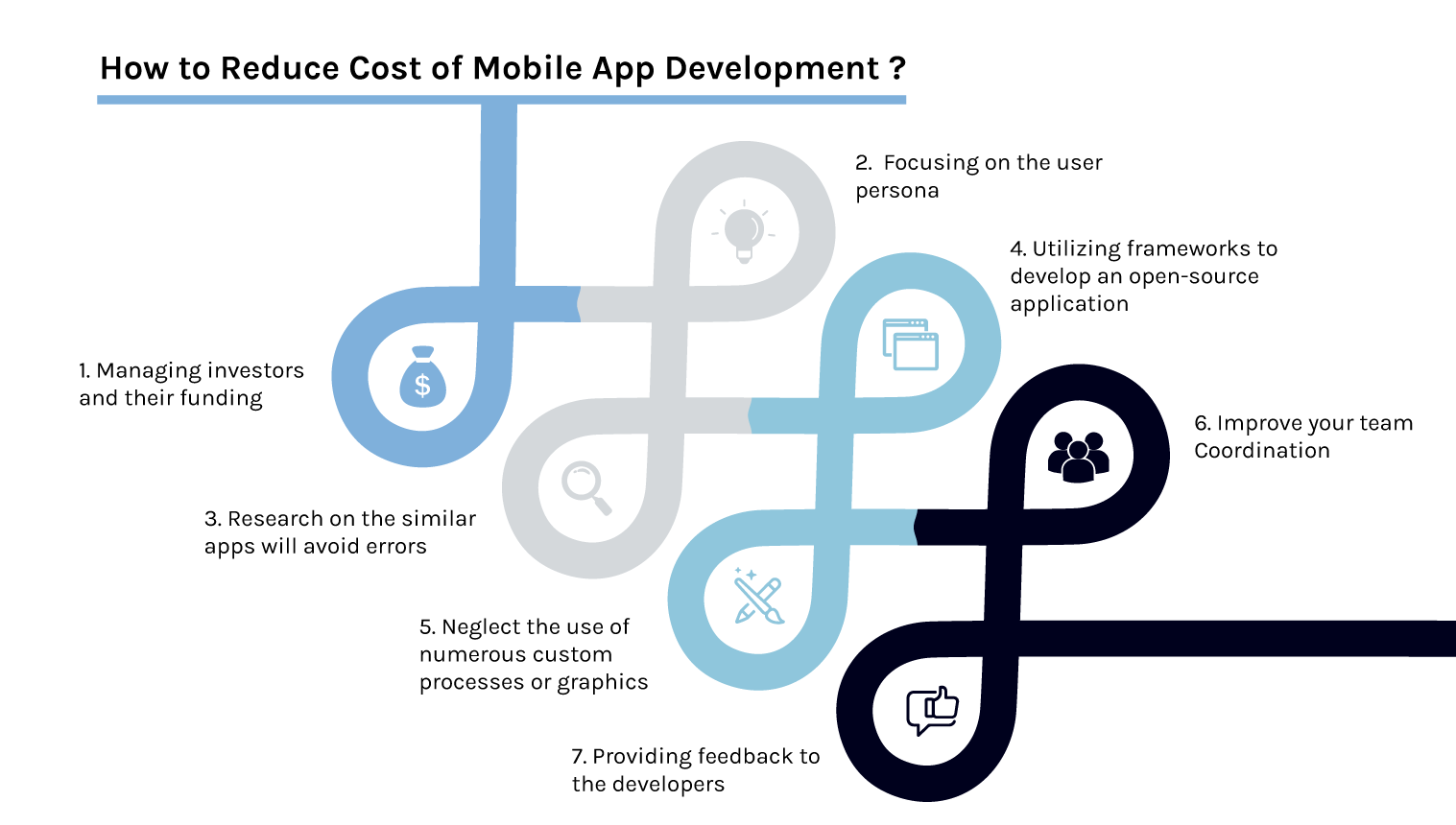 Managing investors and their funding
With the best intention of reducing costs, both businesses and developers must find a way to share costs.
This means that the developer can ask the investor for additional funds where they can share potential profits, and this strategy works differently, too.
However, a company that uses a limited budget may choose to sponsor an engineer and receive full application rights, thus ensuring that the development project is completed
Focusing on the user persona
Consider the fact that the mobile development app does not need to provide everything in the world to your users. The important thing here is to focus on something of the service and what the user needs. It has to solve a problem.
Providing more features will not only confuse users and cause the app to crash, but it will also cost more time and money, which is very important, especially if you do not know if you will make a profit or not.
Research on the similar apps will avoid errors 
While it may seem like a lot of lost time, the fact is that if you do the right research on the same apps, about all the requirements, and so on, you can save some time by avoiding mistakes.
If the developer has a well-designed plan, detailed with all the drawings, principles, and requirements, it will be easier to plan the work and finish it quickly.
Utilizing frameworks to develop an open-source application
With this clever tip, you can reduce the cost of most upgrades if you check for free to use the platform application development frameworks.
Just look online for a few such services and see which one is best for your project.
Neglect the use of numerous custom processes or graphics
Although mobile apps are often different, there are still common features, such as buttons, navigation type, and other details.
This is because users often expect mobile apps to behave in a certain way, as well as App Stores.
For example, Apple has set the Personal Interaction Guidelines that must be complied with by all iOS apps when authorized and displayed on iTunes.
For this reason, it may save you valuable time and money to use buttons and similar items already created. Yes, customize your app, but draw a line whenever this is no longer needed.
Improve your team Coordination 
Divide the tasks clearly and intelligently among the people working on the project, taking into account their abilities.
Providing feedback to the developers
When working with developers, it is important to give them feedback in advance. Outsourcing app development is a good idea, but it may seem ineffective if you don't handle it properly.
Since a developer's time means money, you may want to pay close attention to how he or she works and provide feedback so that they know what to fix right away.
As you can see, reducing the cost of application development is not a difficult task. By doing simple things, such as giving feedback, cleverly sorting tasks, and eliminating unimportant features and design elements, you will see that there is more time and money to save by planning.
Bottom Line 
We hope this article contains a level of awareness of the cost of application development and the time and price required to build and integrate features in an application. Since making an app is important for all businesses, you can make a budget including all the essential aspects and features you need to integrate and start your journey to improve your app.
If you are planning to develop your own mobile apps then share your queries with us or get in touch with us at sales@codestoresolutions.com or Call Us Today! +91 8069195500 | +1 (302) 520-2820