Introduction
Healthcare firms have already started leveraging chatbots to provide accurate and updated information to patients without making them visit hospitals. With the help of an interactive chatbot, the frontline services can be accelerated interactively. By integrating chatbots the frontline employees will be able to make the communication more efficient between patients and hospitals and will also help them in getting the best treatment. 
If you are an owner of a healthcare organization and you are looking to harness the potential of this efficient software to serve your patient more effectively, then you must know the benefits of integrating an interactive chatbot into your healthcare system. 
In this blog, the Codestore team will give a walk-through of some of the best practice use cases of chatbots in the healthcare sector, which will be beneficial for you as well as for your family. 
Role of Chatbots in the Healthcare Sector
The chatbots used in the healthcare sector are better known as medical bots. These medical bots are AI-powered and assisted digitally which helps healthcare providers, insurance companies and patients connect easily and do seamless communication. They also play an important role in making crucial health information easily accessible to the right stakeholders.
Smart chatbots assist medical professionals and improve healthcare processes to generate actionable insights and enhance patients' experience. They also track patient satisfaction, schedules appointments, cancellations, no-shows, and follow-ups. 
Intuitively designed to make patients feel heard, valued, and validated, these chatbots go a long way in providing empathetic & supportive care, intelligently.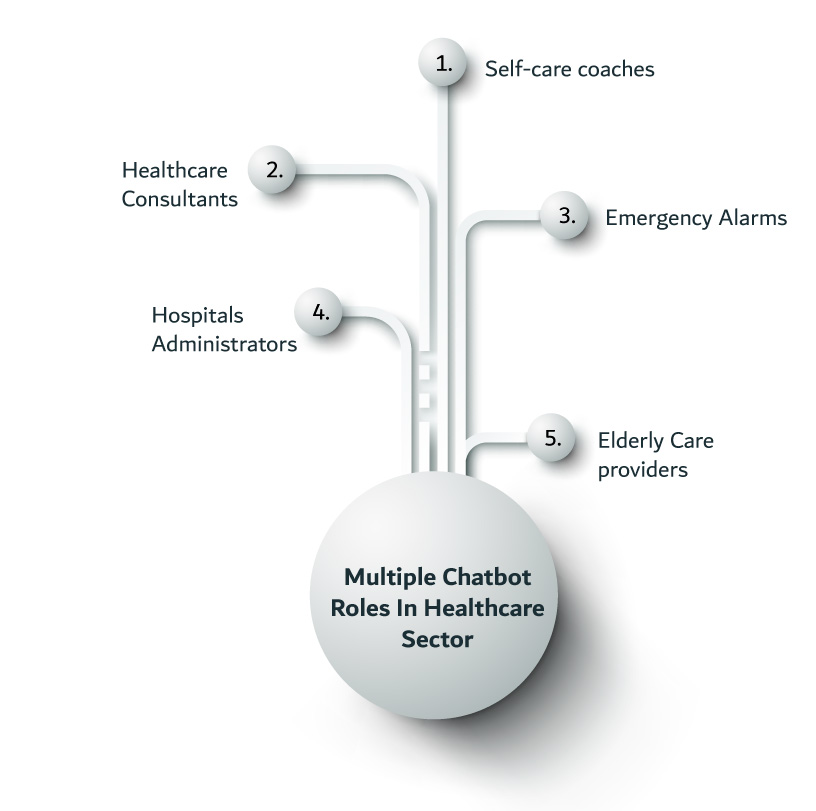 But, before you approach a technology partner to develop a live agent for your healthcare facility, it is important to know the different types of bots.
Conversational or AI Chatbots:- Conversational agents employ natural language processing (NLP) and ML algorithms to learn human intent and language. This is how automated responses answer patient queries most comprehensively. They are typically used to schedule an appointment, manage insurance inquiries or provide medical information.
Informative Chatbots:-  The automated client support bots offer resourceful information to the users via push notifications and pop-ups. Health news and mental wellness websites that provide detailed information about specific medical topics typically use them.
Rule-based bots:-  They follow predefined paths as a flowchart where users select an option and the chatbot responds with an appropriate answer. Depending on the nature of the requirement, it could keep this simple or the workflow can be as complex as needed.
Providers essentially used these chatbots to manage multiple appointments, patient engagement, registration, initial screening, and maintaining health records.
Business Benefits of Chatbots in Healthcare
24*7 Access to Patients:-

Live agents ensure that access to your medical practice is not restricted to working hours. Your existing and potential patients can receive all the information they need at any time of the day.

Scalability:-

To address multiple requests simultaneously, one needs to have more people on board. But intelligent chatbots can efficiently handle anywhere between 1 to 1000 interactions at a single time, without any error.

Efficient Record-Keeping:-

Virtual agents also assist with record keeping. The use of AI chatbots in healthcare helps drive informed decision-making with instant notifications to health specialists on vital data.

Managing Population Health During Global Pandemics:-  
Predicting an infection or illness requires analyzing various parameters and symptoms. And during a global pandemic wherein a life-threatening virus is spreading rapidly, the first thing that people want to do is contact their general practitioner.
However, handling an influx of inquiries and managing appointments for those with symptoms is challenging. Having a virtual agent in place to offer these services can make the process safe, easy, and efficient.
Patients can simply share their symptoms and the chatbot can analyze them to provide appropriate information or educate them on action to take. If the condition is serious, it can escalate the issue to a human representative or request emergency assistance.
Processing Bills and Claims:-  
When your patients are ready to process the payment, the last thing you want to do is make them wait. A simple virtual assistant is always available and when integrated with the backend billing system of your practice, it can securely manage inventory and can also help in collecting payments.
Supporting Clinicians at Point-of-Care:-  
Virtual assistants support doctors in retrieving drug information in real-time. This also includes the list of all active ingredients within medications as well as recommended options for prescribed drugs. 
This makes it much easier and faster for physicians to prescribe a particular drug with proper dosage and medical instruction.
Collecting Patient Feedbacks:-  
The goal of any medical practice is to provide the best possible care to patients. Such intelligent bots are the best way to collect anonymous patient feedback for consistent improvement that ultimately contributes to patient satisfaction. 
Helping Patients With Self-care:-  
Many patients are now relying on digital assistants that remind them to take their medications on time and provide them personalized nutritional information. They are fully equipped to check vital stats of patient's bodies, monitor their health conditions, and make the right healthcare recommendations.
Apart from keeping patients engaged with their health goals, they can also identify patients that need urgent medical attention. They pass on all the chat transcriptions to the doctors, so patients don't need to repeat themselves and get the care they want when they need it most!!
Providing Mental Health Assistance:-  
Digital assistants that are developed to provide mental health assistance are trained to conduct cognitive-behavioral therapy for people suffering from depression, anxiety, and post-traumatic stress disorder. They can also train patients with autism via text, cameras, and other equipment to enhance their social skills. Mental healthcare organizations have successfully deployed chatbots to provide meditation sessions and Dialectical Behaviour Therapy (DBT).
Requesting Prescription Refills:-  
Interactive agents collect end-to-end patient data. From their contact information and the current doctor to their last physical visit and prescription information. A doctor collects the data to aid clinical decision-making and efficient processing of prescription refills.
It also enables the doctor to contact patients when their refill is available and automate the refills in batches for cases where interventions are not necessary.
Managing Care for Chronic Conditions:-  
Digital assistants are an asset for care management. They help in delivering vital information to patients suffering from chronic illnesses. For example, if a patient has an upcoming colonoscopy, the chatbots will deliver educational materials to the patients. The main motto behind implementing Chatbots is to prepare the patients for all medical emergencies and reduce the number of invasive medical procedures that are canceled at the last minute. These conversational agents also play an important role in oncology care by sharing relevant tips with patients undergoing chemotherapy.
Accessing Test Results:- 
An interactive agent can authenticate online visitors and connect them with external systems. This connection provides secure and timely access to sensitive medical information like test results. 
Providing Secure Access to Health Records:-  
Health records can be integrated with your existing EMR/EHR systems that can easily store, share, manage, and maintain the health data of patients. A physician or the patient can securely access these documents whenever there is a need.
Future of Chatbots in the Healthcare Industry
In the distant future, if you are an owner of a hospital or a nursing home you can see live healthcare agents that will:- 
Help patients manage chronic conditions, psychological disorders, behavioral problems, and mental health issues. Chatbots remotely serve as 24/7 personal assistants helping patients monitor their health conditions in real-time.

Automatically call for medical assistance in case of emergencies.

Proactively analyze symptoms, validate them against the patient's medical history, recommend the next best steps.

They also improve health outcomes in cases where early diagnosis can play a vital role.
Interactive Chat Bots have a new role in improving the efficiency of healthcare experts. Hence, the benefits of using them in clinical settings are undeniable. They can reduce costs dramatically, lessen the burden on medical professionals and improve patient experiences.
In today's digital healthcare landscape, an AI-based bot has become a must-have. It keeps your facility accessible round-the-clock, without you being the decision-maker, you don't have to spend a great time recruiting customer service reps. 
Why CodeStore Technologies? 
CodeStore Technologies is a leading mobile and web app development company with a special focus on providing the best digital transformation services. We are a great tech-savvy firm serving a lot of industries and healthcare is one of them. 
Moreover, With the help of our experienced developers, we can help healthcare professionals and sectors in developing the best solutions to ease their work.  We have a team of skilled professionals who are capable enough to develop the best Chatbots for the healthcare sector.
If you have any requirements then share the same at: sales@codestoresolutions.com.